Umhlanga Rocks Beach: A Coastal Paradise.
Welcome to the stunning world of Umhlanga Rocks Beach. Nestled on the eastern coast of South Africa, this picturesque destination is renowned for its pristine shores, warm waters, and vibrant atmosphere. In this comprehensive guide, we will take you on a journey to explore the many facets of Umhlanga Rocks Beach. From the best time to visit to water activities, we have got you covered.
Exploring Umhlanga Rocks Beach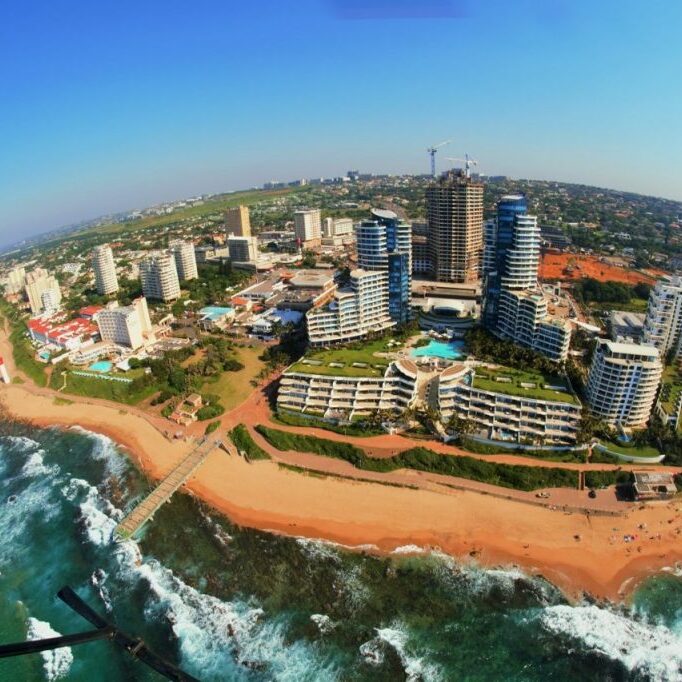 Umhlanga Rocks Beach: A Coastal Treasure
Umhlanga Rocks Beach, often referred to as "Umhlanga Beach," is a true gem on the South African coast. It boasts golden sands, a welcoming ocean, and a stunning promenade. This beach is a must-visit for travelers seeking a relaxed, sun-soaked experience.
The Umhlanga Lighthouse: A Historic Landmark
One of the highlights of this beach is the iconic Umhlanga Lighthouse. This charming red-and-white lighthouse, standing tall against the backdrop of the Indian Ocean, adds a touch of history and elegance to the beach.
Ideal Times to Visit
To make the most of your visit to Umhlanga Rocks Beach, consider coming during the months of April to September when the weather is mild and the crowds are fewer. These months offer the perfect conditions for beach goers.
Beachfront Accommodations
Stay close to the beach by choosing from the numerous hotels and resorts in the Umhlanga Rocks area. Many of them offer stunning views of the ocean and are within walking distance of the beach.
Activities and Adventures
Water Sports Galore
For water sports enthusiasts, Umhlanga Rocks Beach is a dream come true. You can enjoy activities like surfing, paddleboarding, and even snorkeling in the warm waters of the Indian Ocean. There are also reputable rental shops to equip you for your aquatic adventures.
Dining and Nightlife
The beachfront is dotted with an array of restaurants and bars where you can relish local cuisine and exotic cocktails. The atmosphere in the evenings is vibrant, making it the perfect place for a night out with friends or a romantic dinner.
Family-Friendly Fun
Umhlanga Rocks Beach caters to families as well. The beach's shallow waters are ideal for children to paddle and play, and there are play areas and parks nearby for them to enjoy.
Shopping Delights
Explore Umhlanga Village and Gateway Theatre of Shopping for a dose of retail therapy. You'll find boutiques, souvenir shops, and major retail outlets to browse.
FAQs about Umhlanga Rocks Beach
Best Time for Swimming?
The best time for swimming at Umhlanga Rocks Beach is during the winter months, from April to September, when the water is warmer and less choppy.
Are There Any Shark Nets?
Yes, Umhlanga Rocks Beach has shark nets in place, ensuring the safety of swimmers and beachgoers.
Is the Lighthouse Open for Visitors?
While you can't enter the Umhlanga Lighthouse itself, you can admire its exterior and learn about its history from the nearby museum.
Can I Go Fishing?
Fishing is permitted at certain sections of the beach. You can also join local fishing charters for a deep-sea fishing adventure.
Is There Public Transportation to Umhlanga Rocks Beach?
Yes, Umhlanga is well-connected by public transport, including buses and taxis, making it easy to reach the beach.
How Can I Spot Dolphins and Whales?
Dolphins and whales are often spotted from the beach, especially during the whale migration season. Look out for them from the shoreline.
Conclusion
Umhlanga Rocks Beach is a coastal paradise that offers something for everyone. Whether you're a water sports enthusiast, a foodie, a family traveler, or a shopaholic, this beach has it all. With its warm waters, breathtaking views, and friendly atmosphere, it's a destination you won't want to miss. Pack your bags and experience the magic of Umhlanga Rocks Beach for yourself.