The Catfish is well-known for being accessible and inexpensive across the United States. Only a few people are aware that this fish, like many others, has excellent nutritional qualities and may be prepared in several different ways. One of these ways is the Catfish steak.
Almost everyone enjoys eating Catfish Steaks. This is because catfish steak dishes can be mixed and look yummy with salad or veggies. To get a Catfish steak, you pierce through the body Centrally, to divide the flesh and bone of the Catfish. You will find rib-like little bones and a portion of a large bone in every catfish steak you see.
Read on to see how to make Catfish steaks, their nutritional benefits, and how to cut them centrally from their backbone. Sports News
How To Make Catfish Steaks With Spinach Pesto
Get the Ingredients for making Spinach Pesto Catfish Steaks. The ingredients are:
1/3 cup flour, salt, and pepper
a 12-ounce catfish (3 fish steaks)
0.5 ounces of fresh parsley and 1 ounce of spinach
2 tablespoons of olive oil
After getting the ingredients ready, follow these steps to prepare for the cooking process:
Step 1: mix the flour, oregano, pepper, and 1 teaspoon of salt on a plate.
Step 2: cover the catfish steaks after mixing until it is evenly distributed.
Step 3: add the covered catfish to a pan that has been heated to medium-high heat with 2 teaspoons of vegetable oil.
Step 4: fry the Catfish for about 4 to 5 minutes. Ensure all sides of the Catfish get fried.
Step 5: After frying, put the fried Catfish in a baking oven. Then bake the Catfish for 15 to 17 minutes at 350⁰F/175⁰C.
Step 6: put the spinach, basil, parsley, and olive oil for blending.
Step 7: add salt and pepper, then mix.
Step 8: After cooking, serve the seasoned catfish steak with spinach pesto on the dining table.
How To Make Catfish Steaks With Red-Wine Demi-Glaze, Bacon, Mushrooms, and Pearl Onions
First, get the ingredients. The ingredients are:
3 cups of veal demi-glace
3 qts of finely chopped flat-leaf parsley
112 qts. white, quartered mushrooms
24 slices of salt, freshly ground black pepper and bacon
1½ gal of puréed potatoes
96 pearled, blanched, and peeled onions
Follow these easy steps to get the cooking recipes perfect:
Step 1: cover the outside of the catfish steaks with bacon. Each steak should be together with a bit of butcher's twine.
Step 2: add flour to the catfish steak after you must have added salt and pepper.
Step 3: Turn the pan over, then add the pearl onions and mushrooms. Place in a 375°F standard or 325°F turbo oven, and cook until the fish reaches a core temperature of 145°F.
Step 4: take the fish and the pan out of the oven. Place the Catfish Steaks in a hot steam table pan.
Step 5: While you prepare the sauce, cover and keep it warm.
Step 6: put the Steaks on high heat, add the red wine, and reduce it by 3/4.
Step 7: add demi-glace and maintain a simmer for 4-5 minutes, or till the sauce becomes thick.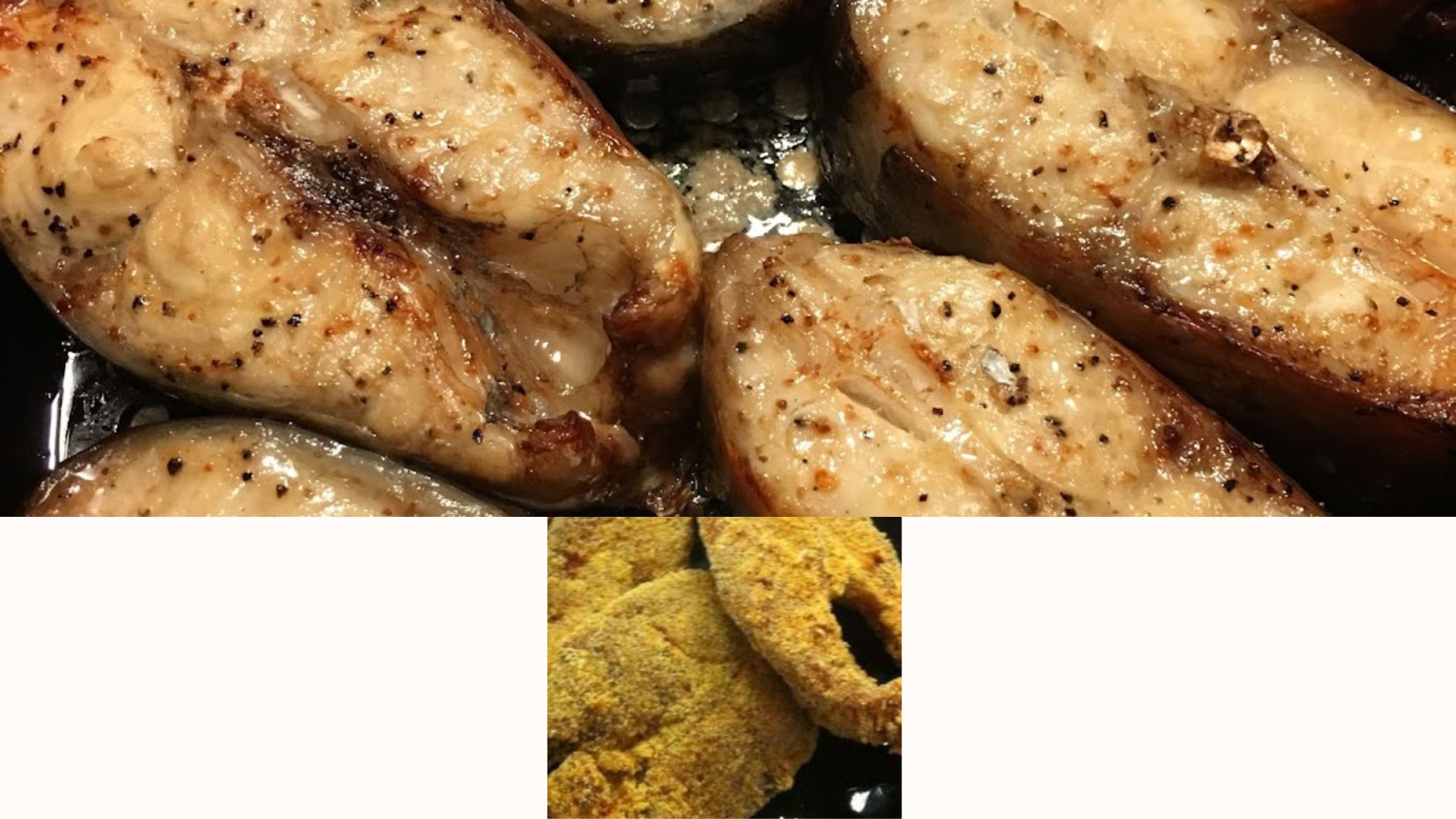 How To Fry Catfish Without An Air Fryer
If you love eating Catfish, then this air fryer catfish steak preparation method is for you. The cooking process is very easy to prepare.
Step 1: pour a little olive oil or your preferred cooking oil into a sizable skillet. Both avocado oil and peanut oil are OK.
Step 2: put the catfish steaks into a single stack to the hot oil. Fry the steaks on medium-high heat for about 10 minutes, turning them regularly to make sure all of the surfaces are covered in oil. To avoid burns, use a splatter screen.
Step 3: Remove the fried fish from the pan, then set it on a dish with a sheet towel to absorb any remaining oil.
Note that If you don't want to use an air fryer, you can still make this recipe for fried catfish on the stove.
What Are The Nutritional Benefits Of Eating Steaks?
1. Catfish Steaks contain a high level of Omega-3 fatty acids
You can find an abundance of Omega-3 fatty acids in catfish Steaks. The nutrient is popularly used for supporting both heart and brain function. Human bodies are unable to create omega-3s on their own. So Catfish steaks allow you to have this nutrient when consuming the dish.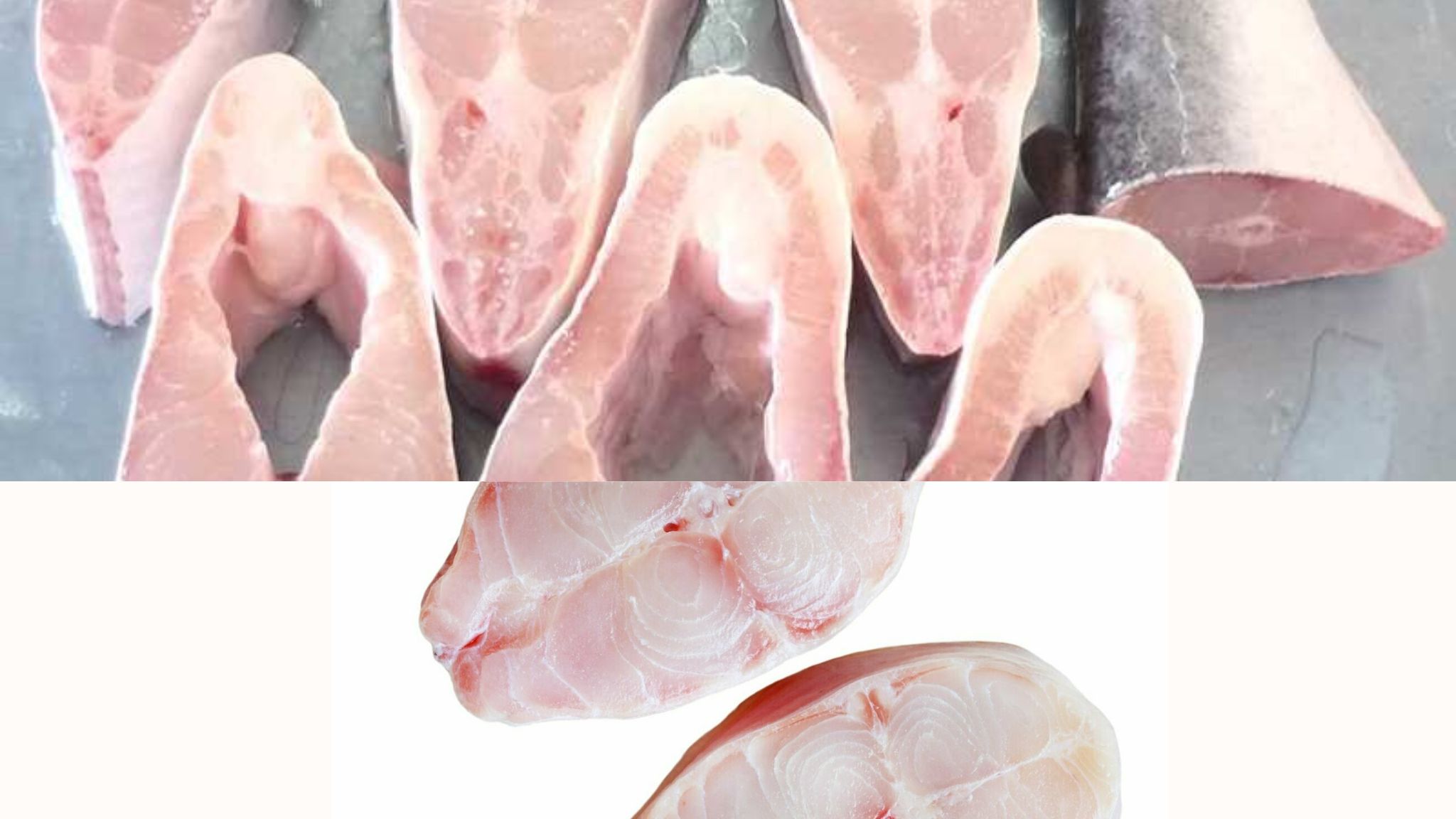 2. Catfish Steaks are Proteinous
One of the best sources of energy in a diet is protein. Catfish steaks provide lean protein since they have a substantial amount of protein with fewer calories. Additionally, even though there are many fish that are rich in vitamin B12, catfish are a particularly excellent source of this nutrient.
Frequently Asked Questions On Catfish Steaks
What are Catfish Steaks?
A Catfish steak often referred to as a fish cutlet, is a portion of fish that is cut transverse to the spine and may or may not have bones. You can produce Catfish Steaks with "Skin on or off". Normally, the fish sought to be cooked as a Catfish Steak must have to be bigger than 4.5 kilograms (10 lb).
Is Catfish Steak good?
You can use Catfish steaks for any occasion you are preparing for. This is because Catfish steaks are good and are referred to as the best dish for any event you'd be looking out for. This delectable shellfish can be barbecued, pan-seared, grilled, or accompanied by pasta sauce and chilies for a blazing sensation you didn't see coming.
Do Catfish Steaks Have Bone?
Generally, The catfish cut known as "Catfish steaks" typically has bone in it. Each one has a backbone-like portion of a larger bone as well as tiny bones that looks like a rib.
How Do I Cut A Catfish?
You don't just use any type of knife to cut a Catfish. Attempting to pierce and cut the spine of a Catfish with a hatchet or knife can be difficult. This is why it is advised you to use a butcher's Saw to cut through Catfish.
What Can I Make With Catfish Steaks?
There are many styles of foods you can make with Catfish Steaks. For instance, you can grill, pan-fry, broil, or bake catfish steaks. Catfish cooks don't take time. It is quick, soft, and often tears away. This is in contrast with beef steaks. Beef steaks need time and might become stiff during the cooking process. Compared to fish fillets, fish steaks are less resistant to breaking down. In contrast to beef steak, catfish steaks are frequently cooked in sauce. Catfish Fillet, which normally lacks bigger bones, is usually cut parallel to the spine of the Catfish on both sides. Compared to other vertebrates, the catfish's body has more edible muscle—more than 85% of it.
Are Catfish Healthy?
Catfish Steaks are very healthy for the body. Catfish is a common ingredient in cuisines all around the world and has excellent nutritional qualities. Catfish steaks are therefore regarded as a nutrient-dense food since they are a high-protein, low-calorie seafood that provides nutrients including vitamin B12 and selenium in addition to omega-3 and omega-6 fatty acids. Domoredo
Conclusion
To enjoy the taste and thrilling sensation of Catfish steaks, you can combine them with other cuisines and dishes, as you have seen in the slides above. Also, the steps for preparing catfish steaks are quite simple. You can master how to make the different varieties of Catfish Steaks in a month. What plays out is how consistent you're in preparing this tasty dish.